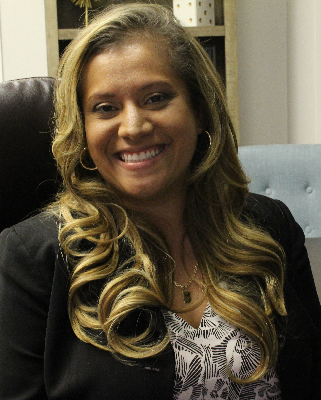 Previously, Ms. Crespo worked as the Managing Immigration Attorney at Catholic Charities Diocese of Baton Rouge and as an associate for Maria-Baldini-Potermin & Associates in Chicago, Illinois. Most recently, Ms. Crespo previously worked as the Project Attorney for the Legal Orientation Program for Custodians (LOPC) of Undocumented Alien Children through the Catholic Legal Immigration Network Inc. (CLINIC) in Washington, D.C. The LOPC is a Department of Justice funded program which educates custodians of undocumented children on the legal immigration process. Prior to that position, Ms. Crespo managed the EOIR funded Legal Orientation Program at the LaSalle Detention Facility in Jena, Louisiana and previously served as the Jesuit Volunteer Corp Detention Project Coordinator for CLINIC's Gulf Coast Immigrant Project for in New Orleans.
Ms. Crespo has vast experience in detention and removal work and immigrant community outreach. In addition, Ms. Crespo has provided introductory seminars on immigration law to law students at La Universidad de Rafael Landivar in Guatemala. Her work has earned her many awards, including the Louisiana State Bar Association Student Pro Bono Award, the Gills Long Public Service Award, and the Outstanding Clinic Student Practitioner in the field of Immigration Law Award. Ms. Crespo is a graduate of Loyola University of New Orleans College of Law and earned a B.A. in Political Science from the University of New Orleans. Ms. Crespo is fluent in Spanish. In the past Ms. Crespo hosted a radio show called "Ruta Diferente" on Radio Amor 91.9 FM, where she provided information to the general public on immigration law and local social services in the area. She writes two monthly columns for Todo Sport, a Spanish-language newspaper distributed throughout the Greater New Orleans area.
Louisiana State Courts
US Court of Appeals – Fifth Circuit
US District Court – Eastern District of Louisiana
US District Court – Western District of Louisiana
US District Court – Middle District of Louisiana
Notary Public – Louisiana
Notary Public – Illinois
B.A., University of New (2004)
J.D., Loyola University New Orleans College of Law (2007)
President, Hispanic Lawyers Association
Past Secretary, Hispanic Lawyers Association
Part-Time Staff Attorney Representing Minor Immigrant Children, Loyola University College of Law's Stuart H. Smith Law Clinic and Center for Social Justice
In-House Counsel, Consulate General of Honduras (New Orleans)
Top-40 Under 40 (2016), National Trial Lawyers
10-Best Client Satisfaction (2016), American Institute of Legal Counsel
Nominee – Millennial Award in Legal Services (2016)
2017 Orgullo Hondureño Award Nominee
Reviewed 900+ handouts used across the United States
Created presentation used by LOPC facilitators nationwide to educate sponsors of immigrant children
Columnist, Todo Sport 
Our office is located on the third floor of the Manhattan Place Building in suite number 310. The building is located at:
2439 Manhattan Boulevard, Harvey, LA 70058
Parking is available for free.
The building is near the intersection of Manhattan Boulevard and LaPalco Boulevard.
Nearby landmarks:
Waffle House
New Orleans Hamburger & Seafood
Walgreens
CVS (across the street)
Wendy's (across the street)